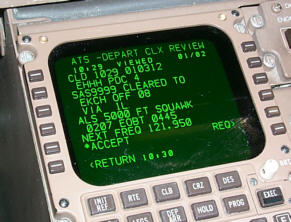 AFIS (Airborne Flight Information) / ACARS (Aircraft Communications Addressing and Reporting System) deliver important information to and from the aircraft reducing the crew's workload. VHF Ground stations are typically installed at International Airports; Business Aircraft are often out of range of these VHF Stations when on the ground or when flying in remote and oceanic areas. Using the Iridium network and AFIS/ACARS capable equipment such as the FMS, CDU, DMU or CMU and an AFIS/ACARS capable Iridium Transceiver allows standalone AFIS/ACARS worldwide service or continued coverage when out of range of a VHF AFIS ground station.
Ground to Air & Air to Ground communications include: Text Messages, ATIS/TWIP, Flight Planning, D-ATIS (Digital ATIS), Flight Plan Winds Update, Graphical and Textural Weather, OOI (Out, Off, On, In) Reports, Pre-Departure Clearance & Oceanic Clearance. FANS 1/A also uses the ACARS system but specific hardware must be present and approved on the flight deck. Need more info on FANS 1/A?
AirSatOne airtime solutions include access to AFIS/ACARS, Flight Planning Services and many 3rd Part Flight Support Services.