Global firewall and compression management for SwiftBroadband.
Flightstream™ SA offers a full set of web filtering, compression, management, and consumption tracking features.
To reduce data usage and free up bandwidth, aircraft operators can choose different levels of compression, block high content web sites, limit downloaded file sizes and block automatic updates. Changes can be made through our customer portal at any time to a single aircraft, the entire fleet or a group of aircraft in the fleet - anywhere in the world. Flightstream™ SA does not require hardware or software to be installed on the aircraft or personal devices and allows flight departments to keep their highly mobile networks under control.
Charter operators can bill back data usage using our online portal where the aircraft operator can view individual trips, aircraft or fleet data consumption. Our Data Manage Live application can provide passengers with a pop-up display on their personal devices showing real-time data usage and cost to avoid billing surprises.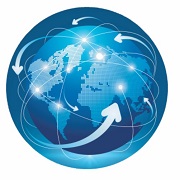 Flightstream™ SA is deployed globally - an important feature for aircraft operating around the world. Being deployed globally is important for efficient data handling to reduce time, distance travelled and to reduce latency and hops. Milliseconds add up for each data packet sent and received, a shorter distance means less hops and faster data. Our backbone and its efficiency matter to the passengers on your aircraft.
Flightstream™ SA Features
Flightstream™ SA Features
Note
Web Filtering
Block audio, video, animated media, flash, remove advertisements, block URL's, block file type, limit file size, block categories.
Compression
Text and picture compression - adjustable, display light webpages. Whitelisting available -predefined list to allow flight planning and weather apps.
Firewall
Globally deployed network security for your aircraft. High level features for IT professionals. Predefined settings or custom settings.
Cost Recovery
Billback data usage to your charter customers using our quick and easy data monitoring service.
Email Notifications
Receive email notifications when data usage thresholds are reached. Automatically get notified of excessive data consumption to avoid surprises at the end of the month. Automatic suspension is available.
On Board Usage Monitoring
Passengers or flight crew can monitor live data usage & their cost through a pop-up window without the need to download special apps. Cost indicator pricing is set by the aircraft operator.
Wi-Fi Calling
Use your own smart phone and your existing phone number. Our Flightstream™ SA will allow Wi-Fi calling to pass un-interrupted. Regular data usage charges apply.
Global Infrastructure / Backbone:
Five teleport facilities located around the world enable us to provide global coverage for basic connectivity services. The teleports provide the link between the satellite constellation and terrestrial networks for reliable end-to-end connectivity at the highest service levels. Six IP PoP interconnects located around the world provide local access points to our portfolio of global broadband services and IP & Networking solutions.
Global Infrastructure Teleports are located in:
Aussaguel (France)
Eik (Norway)
Santa Paula, California (United States)
Southbury, Connecticut (United States)
Yamaguchi (Japan): 3rd party facility through Vizada partner KDDI
IP PoP interconnects are located in:
Amsterdam (Netherlands)
Aussaguel (France)
Hong Kong (China)
London (United Kingdom)
New York City (United States)
Oslo (Norway)
*The Web Compression and Web Filtering solutions are currently not available using the Vizada Asia APN (via Hong-Kong point of presence).